I've started doing cross-stitch again, after many years away from it. Really enjoying it too. I know what you're thinking - 'why is she posting about cross-stitch in a Tarot blog?' The answer is that i find cross-stitch to be deeply spiritual. When I'm working away with the needle, my mind goes into that special place that is receptive to new things, ideas, and is open. It's relaxing and mediative.
I'm currently working on a piece which is suitable for my user-name - it's a version of Waterhouse's 'Soul of the Rose':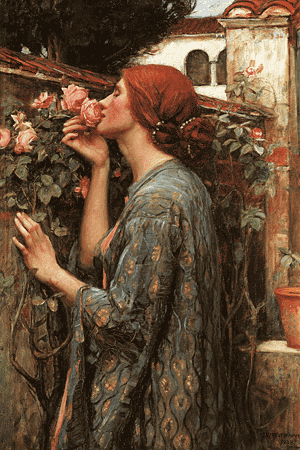 So far I've done the top of her shoulder. It's quite a complex pattern, though not overly so - I've followed more difficult ones. There's quite a lot of half cross-stitches, so that should speed the process up a bit, and there's only a little backstitching on the lady herself and on the roses. There's a few combined colours, but no-where near as bad as some I've done. I don;t mind the odd combined colour, but when every single colour is combined, it gets very annoying. There's only a couple of places where the canvas is allowed to show through, so virtually the whole canvas will be stitched (quite rare for me, I'm used to designs where most of the background is the canvas!)
A few new challenges, but enjoyable! I started this piece on the 18th June. I've just bought myself a new small thread-holder, so I'm busy wrapping all the threads up to keep them safe in there (a bit different from the usual tangled threads in the bottom of a bag!) One of the girls at work who I've become friendly with has also given me some BEAUTIFUL charts for free - a couple of medieval style ones, an Arthurian sampler, and a Faery one. The medieval triptych of a maiden, a castle and knight looks the most complex, but WOW, it's stunning. The other medieval one is a knight and maiden, called a 'Chance Encounter'.
I've had a quick look online, and found images of some of them, if anyone's interested:
- this one's in black and white on the preview, but the actual stitches are in colour. I have NO colour reference for it, so it'll be VERY interesting to see how it turns out!
No image for Chance Encounter, one of the medieval ones.
The Camelot sampler. I LOVE the shape of this. Some tough stitches in there though - wrapped backstitch, four-sided, herringbone, laisy daisy etc. Still, I can't wait to have this hanging like a banner in my room. The text, since it's quite a small image, is the text written on the sword in the stone - 'Whosoever pulleth out this sword of this stone and anvil is the true-born King of England'. Remember, the Sword in the Stone is NOT Excalibur!
The other medieval-based one, the Triptych: