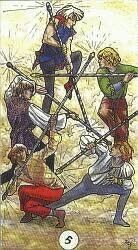 Card of the Day: 5 of Wands
Looks like today everything is going to be disagreeing with me.  I need to make a stand and fight my own corner, and not let anything get me down.  Now, the combatants staves on this card form a rough pentacle, suggesting that it's spiritually and emotionally that I'll be feeling the strain and the strife.  
Reflection on yesterday's card:
Yesterday's card was the Queen of pentacles, and it was spot on.  I spent much of the day being the Queen of Pents, looking after the house, the dog, and helping my parents when they got back home.