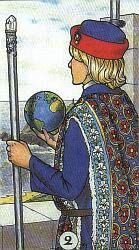 Card of the day: Two of Wands.
Hmm, quite literally, the 'world is in hand...' so the world is in my hand - I can achieve anything I want today... so perhaps I don't need to be worried about going to the dentist... (bleaugh).
Reflection on yesterday's card: Five of Wands
Boy, was yesterday ever a five of wands day!  I spent ALL DAY trying to get through to newcastle college to ask them about enroling on an ECDL (European Computer Driving License) course... could I get through to them?  Nope!  Didn't answer my emails, and the phone was constantly engaged.  I spend about an hour on hold before I gave up and tried again throughout the day and still couldn't get through.